Hey guys, just signed up for the forums, figured I'd introduce myself.
I'm Matt in real life, 4bangen on RCgroups, Sr71freak on thecrashcast live feed, and Rumbuilder on Facebook.
I'm a scratchbuilding nut, and am in love with B-17's and Sr71 Blackbirds.
My most resent project has been what I'm calling the "simple bomber". It started out one day at the local field when I noticed my friend had brought a little P-38 that was roughly the same scale as my 79" electric B-17. I insisted that we absolutely HAD to fly formation. So we did. It was a lot of fun and both planes survived. But on one pass, as that little twin engine fighter was trying to pull in tight for a picture it nearly took the rudder off my $400 dollar model. I thought to myself, "There has to be a less terrifying way to do bomber formations." That thought and a new desire to do groop B-17 formations got my wheels turning.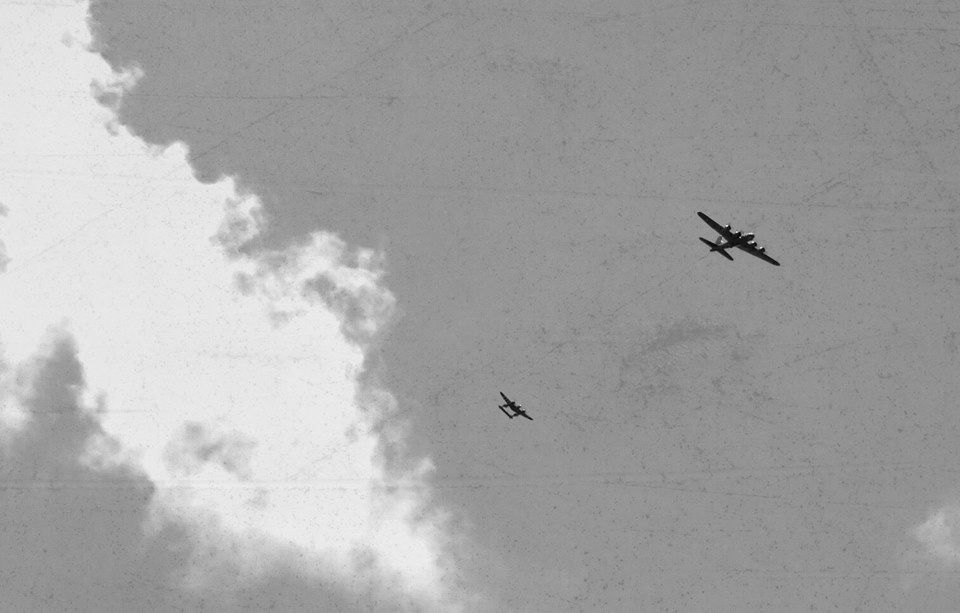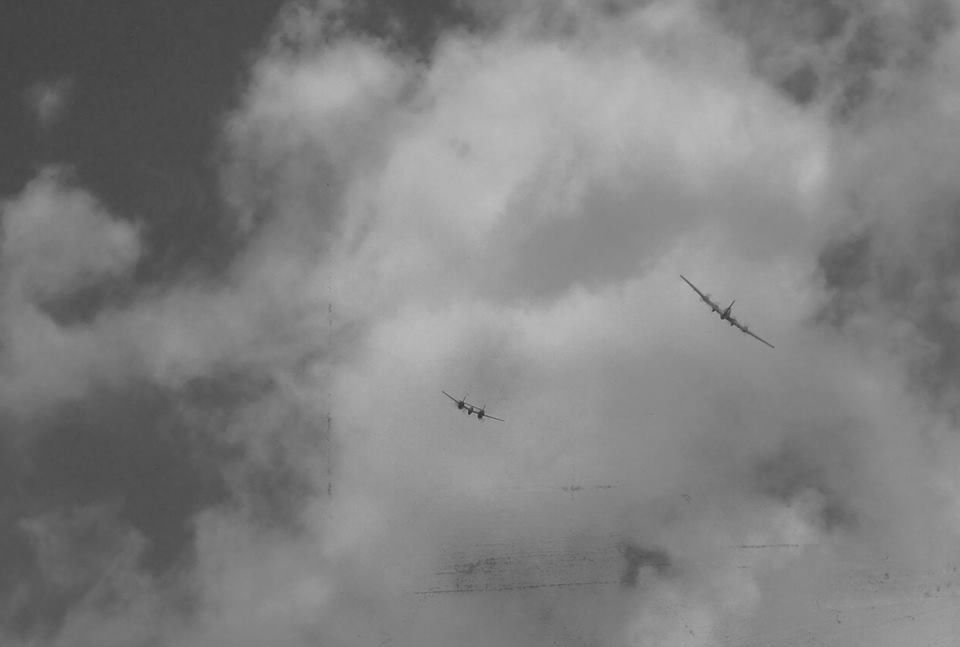 So I set forth on a mission to build a big inexpensive simple b-17 that I wouldn't be afraid to bump into another plane with while flying formation. Also knowing it had to be easily repeatable so my flying buddies would be willing to build and fly them.
What I came up with was a 73" three dimensional profile plane that looks from almost every angle as scale as my $400 bomber. Instead of mounting four motors, and esc's on it I cheated and mounted one motor in the nose. With my first flight I was relieved that my prop disappeared in the air and it looked wonderful!
From the first flight.
After a few weeks of test flying, crashing, rebuilding and modifying, the prototype had reached the end of its usefulness. So one morning not to different from the first, I told a friend, "hey, try and hit the bomber!" Before I knew it there were five combat planes in the air ripping around trying to kill the bomber. And that quickly our club was changed forever. B-17 combat was born!
At one point I put landing gear on one and found that touch and goes where just as fun with this thing as combat!
I have spent more time shooting touch and goes with this thing than I have flying any other plane I have!
just to show sclae here, my lovely wife is 5ft tall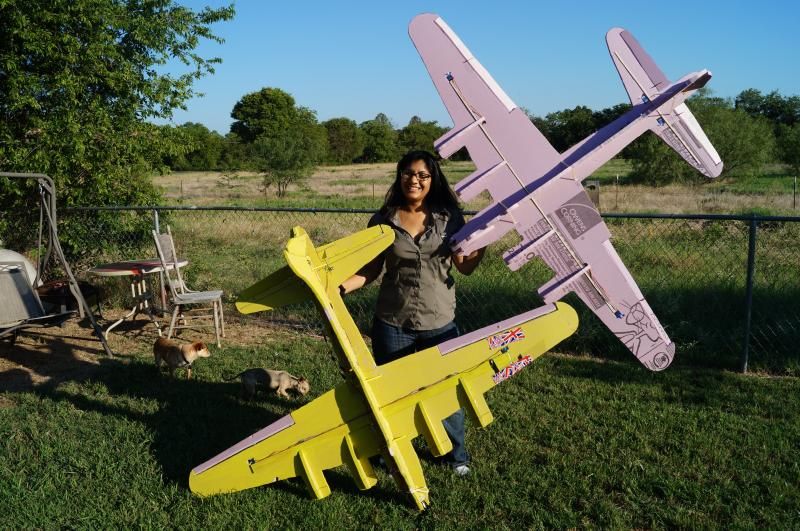 Formation flying took forever to happen because every time I built a new bomber we threw it up in combat. But finally I got the pictures I had wanted.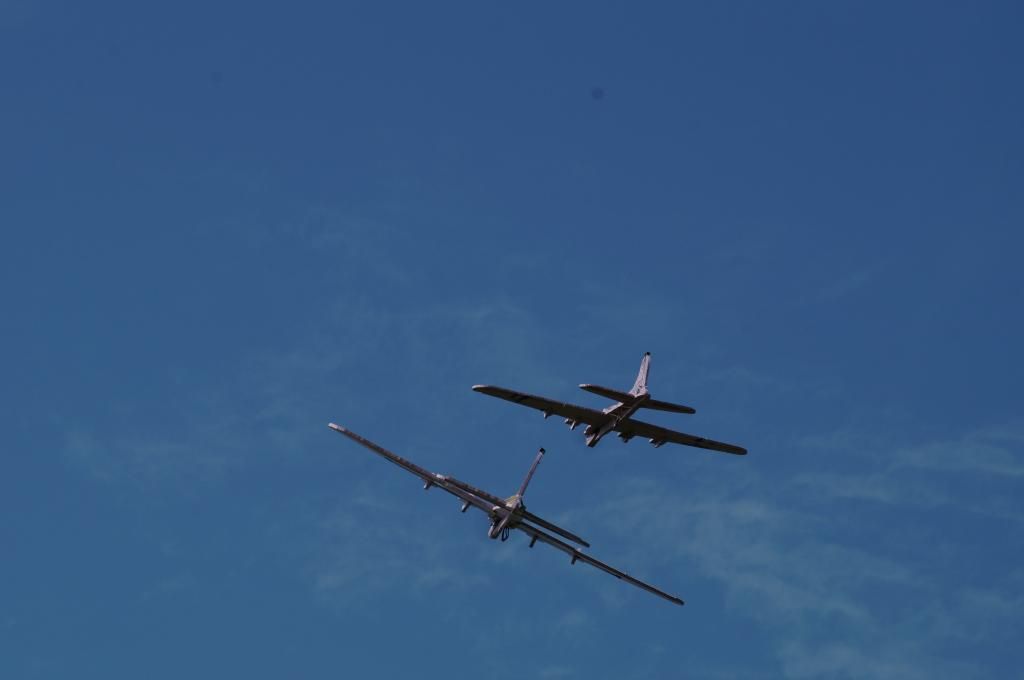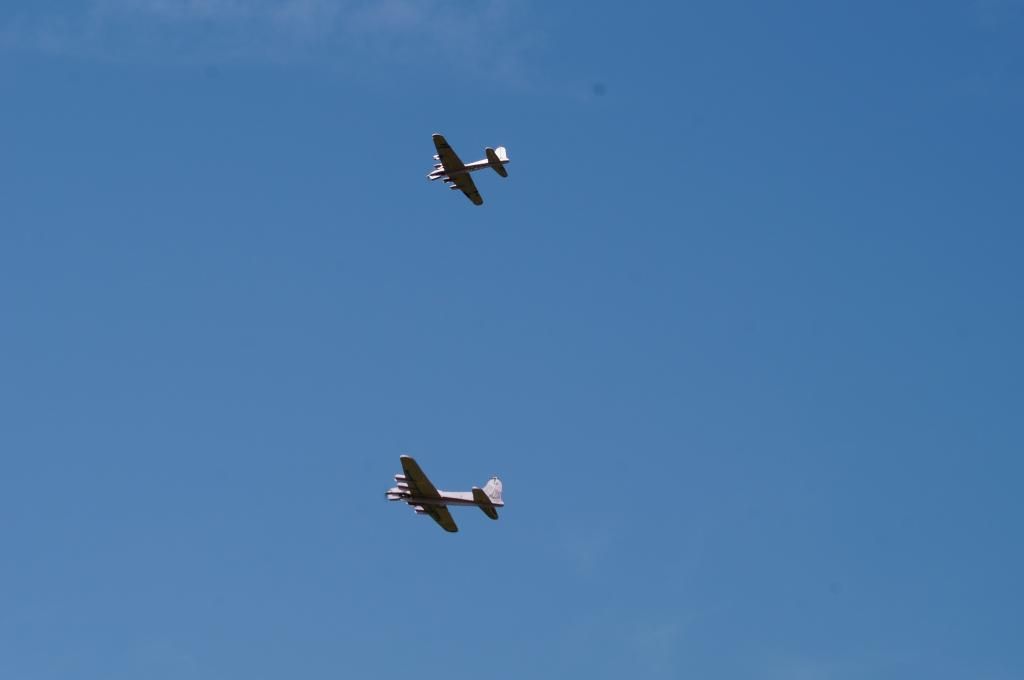 But it wasn't enough; I couldn't let it sit that way. I decided we needed to go bigger; I wanted 9 bombers in the air. I wanted to darken the skies with bombers. So I needed to make more, A LOT more.
In the next few weeks these birds will hopefully take to the air, and make my year long dream come true. It's been a wild ride, I've learned a lot, and have made new friends, connections, and now life decisions because of this plane. I've been contacted by a staggering number of people all over the world who are itching to get their own Simple Bomber, and are offering to buy them even. So now simply by accident I'm about to release my first ever airplane for sale as plans. Not because I wanted to sell airplanes, but because of others wanting to buy them. All because one near miss between a B-17 and a P-38.
Well that's my story, hope I didn't boar everyone. I love the podcast and look forward to joining in on the forums. Chris, Bobby, Ben and the gang are great fun to listen to, keep it up fella's